You will need neon lipstick, giant sequins and lots of moisturizers for the skin to keep up with the fashion trends of the new season.
Bright 1980s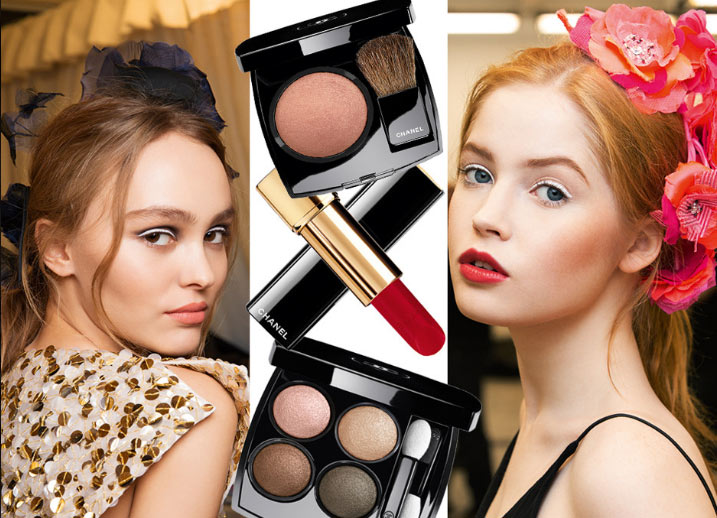 Bright blush, pure shades on the eyelids, lip gloss, and voluminous curls are all vivid examples of the 1980s beauty trends that outshone the restrained style of the 1990s. However, one should not imitate every detail of Madonna's and Blondie's images – save some space for free interpretation. How can you do it? Look at the pictures of Chanel models.
Moist skin effect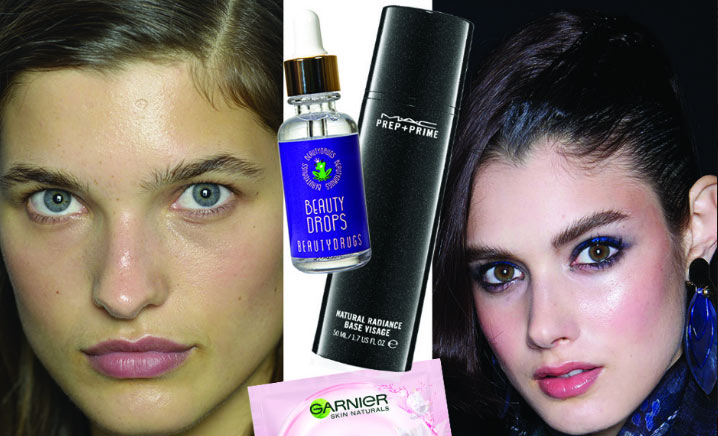 Makeup without makeup is not surprising any more. Even Kim Kardashian, an expert in contouring, dared to come to a Balenciaga show without makeup. Of course, you are not recommended to have dark circles under the eyes – all you need is to find the middle ground for your skin to look nice. In spring and summer, this means super-moisturized skin, as if your face was just sprinkled with thermal water. A creamy highlighter and a fixing spray for makeup will produce the needed effect of Isabel Marant and Giorgio Armani models.
Smudgy eyes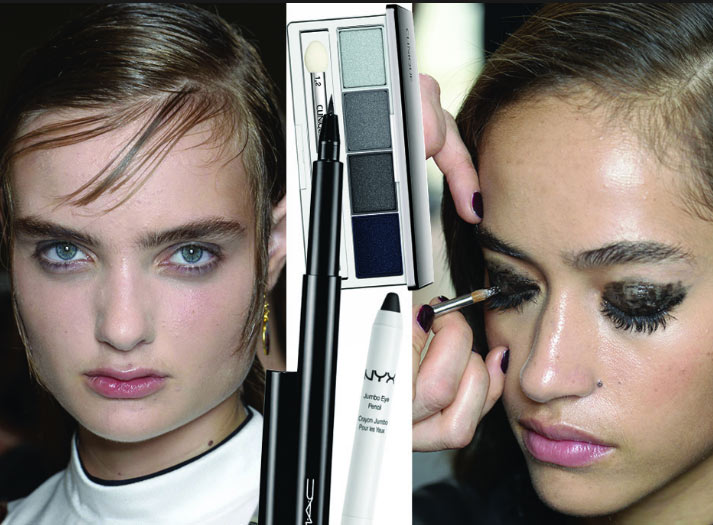 Instead of the classic intense smoky eyes, a lite version of smudgy eyes is getting fashionable in spring. This means that eye makeup should look as though you were diligently preparing for a party, danced all night, and then went to work directly after the club in the morning. The eyeliner should be smudged. Reacting to a surprised stare, you can just say calmly: "I look like the models at Balmain, Altuzarra, and Christopher Kane shows."
Large sequins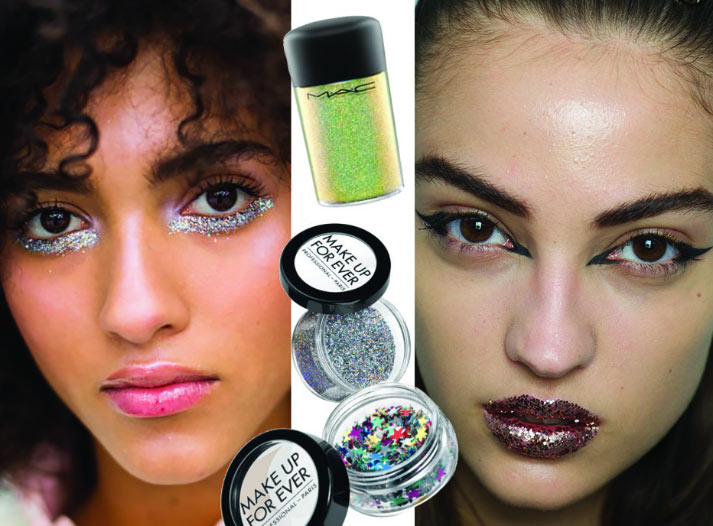 If you still have sequins left from Christmas holidays, feel free to use them. Let the tips of eyelashes, cheekbones, eyelids, or lips sparkle (suitable makeup patterns were noticed at Fendy and Shiatzy Chen catwalk shows). In spring, you can and should be dazzling.
Neon lipstick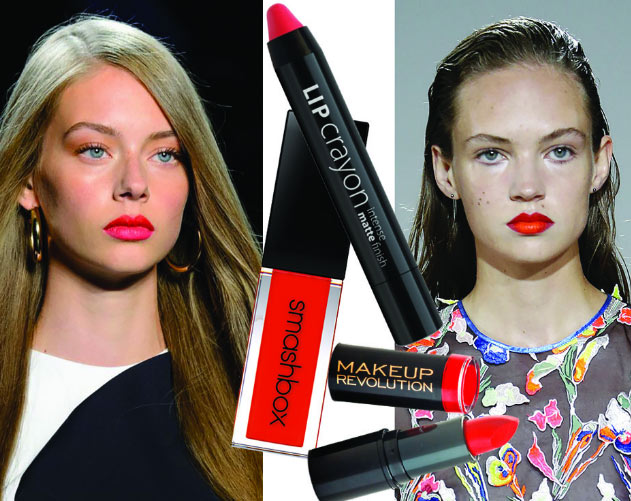 Last year, wine lipstick was present on our lips all the time, even in summer. Fortunately, makeup artists have prepared something new for this season. Take two of the most vibrant lipsticks that are as bright as overripe strawberries and sea buckthorn. Use them in any possible way: for example, apply one lipstick on the upper lip, and the other one on the lower lip. You can even avoid using eye shadows and mascara in this case.
Ear makeup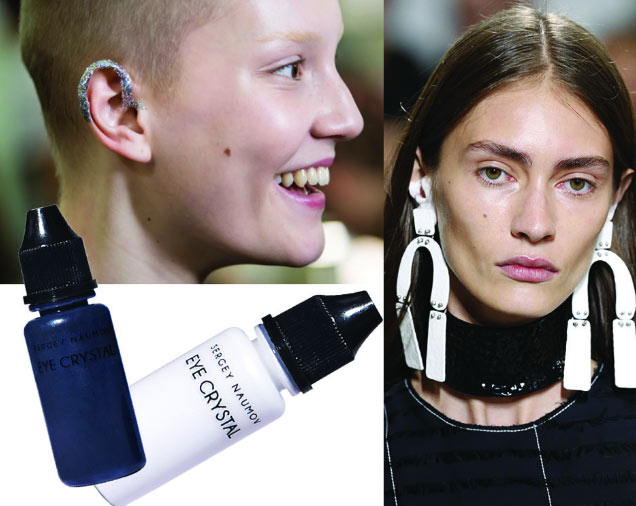 If your hair is combed back, if you wear huge earrings and have massive hairclips at the temples, this will draw attention to the ears. The truth is that a woman needs ears to hear pleasant things, so why not please them in return? For example, sprinkle the ears with sequins or some bright dye, just as Giamba and Proenza Schouler makeup artists did.
Braids and cornrows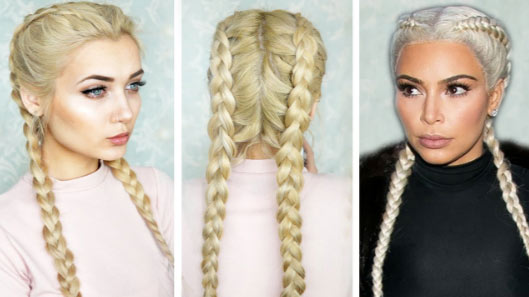 If we had ever been told in elementary school that there are more kinds of braids than kinds of chocolate in a candy store, we would have got up an hour earlier without an alarm clock and asked mother to braid our hair in a new way every single time. Now, it is time for the hairdresser to be creative and cope with the task in an impressive manner. Thin bohemian braids (Roberto Cavalli) or Victorian braids (Valentino) are perfect for a romantic image. Determined young ladies will appreciate a hybrid combination of braids and topknots (Dior and Gucci). Both are right in a way.
Colorful French manicure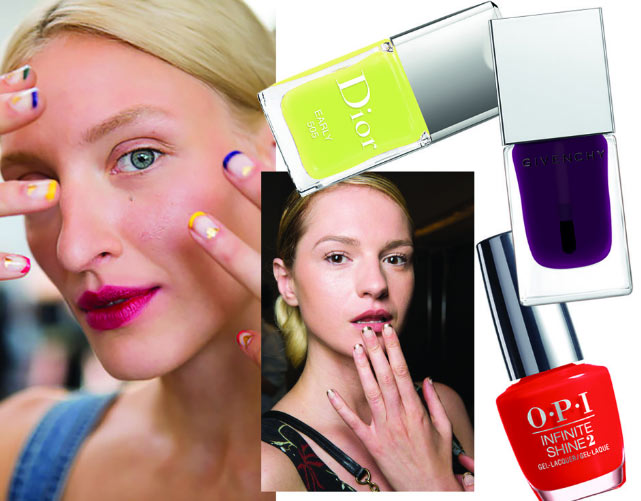 Is it possible to spend three minutes on manicure and collect hundreds of likes on Instagram? Easily. The manicurists, working behind the scenes of Zang Toi and Creatures of Comfort shows, have come up with an excellent idea (by the way, little-known brands can always impress the public with some pleasant nail art). Take the nail polish of any color, or a few of them, and apply them only on the nail tip. Fast + beautiful = Like.